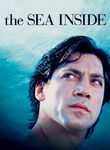 Coming from Alejandro Amenabar, writer and director of
Abre los ojos
(original version of
Vanilla Sky
) is the true and utterly compelling story of Ramon Sampedro, a Spaniard who petitioned for 28 years for euthanasia after breaking his neck and becoming a quadriplegic.
Amenabar really has a knack for storytelling - his work always touches the very center of my heart in ways that no other does. Javier Bardem's outstanding performance as Sampedro is one that makes it seem as though he has gone through a life of quadriplegia himself.
Normally I opt to watch non-English films dubbed over, simply because while absorbing subtitles, I miss so much in the visuals that I feel I'm missing the intended experience completely. Mar adentro, however, sucked me in so deeply that I was able to follow everything closely.
The film is shot in Ireland, and the score reflects it, containing not only beauty all around, but also some bagpipe pieces that really capture the moments.
I highly recommend that anyone and everyone make some time for Mar adentro.