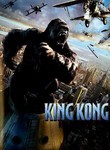 An important thing to consider when rating the quality of a film is its intentions. Peter Jackson said that he embarked upon this new telling of the Kong story with hopes that it would do to audiences today what the original did to him years ago. Well, he hit the nail on the freakin' head.
When we look at the 1933 film that introduced Kong to our world, we see many important themes that go far beyond the simplicity of most creature features or monster flicks present. There is the seeming chaos of untouched nature pitted against the inate and developed forms of humanity, the inner weakness that beauty can evoke, and the apathatic avarice in many priviledged people, among others. This new version expounds upon those themes and explores them in exciting detail, while simultaneously allowing them to live freely in our minds due to the vastly wordless character of the film. As a matter of fact, the one time the film attempts to discuss one of these ideas directly though dialogue, it comes across as needless and excessively melodramatic.
There are several clever homages thrown in that make for some great humorous moments if you are familiar with the source material. While the '76 remake made the story contemporary again and focused more on society rather than romance it is no worthy companion to the original. Not only does the 1933 film still hold up today better than most films do when they're a mere ten years on, it exists as movie magic in its purest form.
Peter Jackson's reimagining takes off to an arguably slow start, but it all pays off. The development of the characters gets you into the story in a deep way. We also see a lot more of Kong, bringing us into his world more and also into his mind.
There are no holds barred in this production, especially in the action sequences. With audiences so desensitized to most everything movie studios can throw at them, King Kong is the new definition of edge-of-your-seat entertainment. The action is long lasting, overpowering, terrifying and original.
All in all, this movie is awesome in the true sense of the word. In complete honestly, my only qualm aside from its slow beginning and needless conversations between Jimmy and Hayes is a very trivial matter - Jack Black mentions something about being better than a B-movie filmmaker, when in fact during the time period that Kong takes place, the term "B-movie" simply meant a film was on a budget. It did not indicate that a film was a cheese-fest with low production values as the term has come to mean today, and as Black uses it in the movie. How about that, huh?