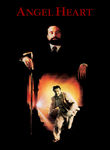 Harry Angel is a candid 1950's private eye who's just been handed a high-paying gig locating a man named Favorite. Simple, right? As people connected to Favorite begin turning up brutally murdered, Heart begins to realize that he's in miles over his head. Mickey Rourke stars in this 1987 film from Alan Parker (
Pink Floyd's The Wall
) that features appearances by Lisa Bonet, Robert De Niro and Charlotte Rampling.
Like, say, Danny Boyle, Parker has a reputation for taking a different approach to each film he does. Something he and cinematographer Michael Seresin accomplish masterfully is the hard-boiled noir look. As Parker put it, they were making a black-and-white film in color. Furthermore, the New Orleans scenes were physically uncomfortable to watch not because of the subject matter (not to imply that the subject matter was at all settling) but because the actors appeared sweaty and exhausted under the unforgiving sun - a unique display in film.
While well conceived, Angel Heart failed to entice me despite its constant sense of mystery. The clues throughout don't seem to amount to much since we don't know what the case is to begin with. This is similar in fashion to The Machinist, which builds to something interesting for the duration but would be much more intriguing if we knew at least a smidgen more about what it was. I'm definitely one to believe in film as art in the respect that it should be accepted as it is and not expected to aspire to be anything else (I call it "the Forrest Gump complex"), but I've never thought that requiring a second viewing is a good quality. It is true that I may enjoy and understand Angel Heart significantly more on another run-through, but after the first I have to admit I'm not eager to venture there again any time soon.
Angel Heart clearly generates a mixed reaction from its audience - some people love it (going as far as calling it the greatest horror film of the 20th century and De Niro's best performance next to Raging Bull) and others, like myself, are more lukewarm. Indifferent, even. I would not discourage viewing it though - one thing is for sure, it's far from being a bad film.