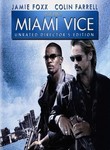 In 1984 a television show hit the idiot-box airwaves and proved successful for its six-year run. Miami Vice, starring Don Johnson as "Sonny" Crockett and Philip Michael Thomas as "Rico" Tubbs gets a shot of millenium adrenaline in Michael Mann's 2006 cinematic revamp, replacing the leads with Colin Farrell and Mann vet Jamie Foxx, respectively. Mann served as an executive producer on the original series and even wrote on episode (
Golden Triangle: Part 2
) so it would seem fitting that his innovative digital approach that was introduced in 2004's powerhouse
Collateral
would be perfectly suited for this re-imagining. Gong Li, Ciaran Hinds, John Hawkes, Barry Shabaka Henley, Luis Tosar, Tom Towles and John Ortiz join the cast.
I was highly anticipating this one and while it was completely different from what I expected (basically a more action packed version of the already ruthless Collateral) it still delivered plenty of very powerful stuff. The somber first two-thirds are slow-paced and this is where the film meets with most of its opposition. I felt that the character and storyline development was expertly handled, however, and once it gets to the final third it pays off big-time, proving the full experience entirely worthwhile.

Mann's use of digital cinematography is more subtle in this outing, creating a less experimental mood throughout. His exploration of South Florida and its underground drug cartel is enticing, particularly for someone like myself who has lived there for several years without learning much about the illegal trafficking.

Farrell and Foxx are sure to meet with criticism simply because they aren't given as much to do as one might expect from two lead heroes, but they play the stoic badasses effectively. The supporting cast is equally effective, featuring many budding stars (I.E. Hawkes, Ortiz, Li).

The soundtrack features some excellent songs such as One Of These Mornings by Moby with Patti LaBelle and Nonpoint's cover of Phil Colins' In The Air Tonight, executed to perfection alongside John Murphy's original score.

So while you may have heard that this is a mostly forgettable and overrated flick, I beg to drastically differ. It's a mature piece intended for adults - check it out and decide for yourself!