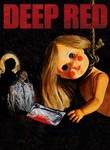 In what is widely considered one of Dario Argento's best films (second only to
Suspiria
according to popular opinion), jazz pianist Marcus Daly (a very likable David Hemmings) bears witness to the brutal murder of a clairvoyant (the harrowing Helga Ulmann) who, not hours prior, had telepathically discovered her killer's twisted mind. Unable to identify the suspect but having fulfilled his role with the detectives, Daly sets out to solve the case himself with casual assistance from a flirtatious journalist (future Mrs. Argento, Daria Nicolodi). His meddling motivates a slew of fresh murders and carries forth one of the best mystery films the late 1900s have to offer this side of
Blue Velvet
.
Only having ventured twice as of yet into the arguable cinematic genius of Argento, I cannot vouch for the majority of his work but it is known among die-hard fans that when delving in to an Argento film one must not anticipate a masterwork of storytelling. What one can anticipate in the story's stead is a frightening series of glorious, unrivaled kill sequences backed by an overall gorgeous aural/visual experience.
Suspiria
, with its daring aesthetics and uncompromising imagery, is a prime example of this.
Profondo rosso
, however, establishes an exception to the mantra. It is with this film Argento, while preserving such a keen eye for visuals that he nearly rivals Kubrick, proves himself more than capable of weaving an extremely involving story.
Madly enhancing the mystery are intriguing clues and subtle foreshadowing that are patiently yet energetically speckled throughout. Every moment, including a few that may at first seem trivial, adds considerably to the proceedings and eventually pays off in spades. As events continue to unfold the attentive viewer will surely be exponentially riveted and eventually rewarded with the blood-tingling final act that leaves not a single loose end.
Dario Argento has crafted a delectable feast for the eyes and the mind that, on back-to-back viewings, had my adrenaline high and my wheels spinning. The thrills are thrilling. The chills are chilling. The music of Goblin (occasional collaborator with Argento) is oh, so very alive. This film accomplishes everything it sets out to accomplish with flying colors or, in this case, a single color: Deep red.
Profondo rosso
.