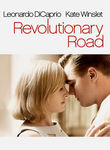 Stuck between cordial friendships, the difficulties of child-rearing and a potential transatlantic relocation, 1950s couple The Wheelers (Leonardo DiCaprio and Kate Winslet) enter tailspin. Satisfied with neither their personal nor professional lives they try helplessly to make their home appear a happy one amidst the social chaos. Helping to round out the cast are Michael Shannon, Richard Easton, Kathy Bates and Kathryn Hahn in Sam Mendes' fourth theatrical outing about the misgivings of adult life and the lack of sense with which they are typically approached.
With the superb
Road to Perdition
as an exception due to its focus being more on the telling of a story, Sam Mendes' films to date all purport a certain philosophy, bringing it forth with each scene. This is liable to wear thin if one catches on to that philosophy from the get-go. Instead of the idea being expounded upon, the succession of scenes merely presents it in varying scenarios.
Revolutionary Road
is no exception. After the first act limps across the screen, the message, an observation on modern society, becomes apparent but lacks further development as the film pushes forward. Although the little story that is available does keep one involved enough to avoid nodding off, it never rewards its audience with deeper revelations.
DiCaprio and Winslet famously paired for a harlequin romance in
Titanic
, where their immature talents made for awkward performances. In the meantime they have honed considerably, becoming arguably two of the greatest big screen actors of their generation as exemplified in roles such as DiCaprio's multicultural smuggler in Edward Zwick's
Blood Diamond
and Winslet's broken housewife in Todd Field's
Little Children
. In this sophomore excursion for the duo, their performances are still childish but intentionally so. They bicker and whine to an occasionally animated extent. They "play house," as Michael Shannon's character so adequately phrases it. Shannon provides a grounding point, stating what is likely on the audience's mind. With this and other, similarly barefaced statements it becomes proven that although he is the only character of the insane bunch to be labeled as such, he is in fact the only one with both oars in the water.
A well-intentioned film,
Revolutionary Road
is only admirable to an extent. Its philosophy, while an honest and resounding one, is too heavily relied upon at its base level. In spite of its inability to compel, however, it does chug along at a healthy clip once the premise has been fully established and it may very well make for a worthy rental. There are some solid laughs to be had and perhaps, if one is particularly susceptible to Thomas Newman's melancholy chords, some tears.