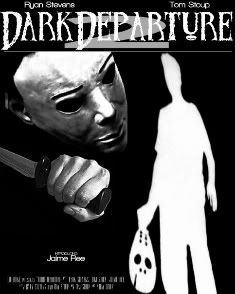 In August, 2007, I was prepping to take my leave of Orlando. Friend Ryan Stevens and I shared an anticipation of the then-upcoming release of Rob Zombie's
Halloween
due to a love of Carpenter's original and of Zombie's filmmaking (which at that point only consisted of the bold
House of 1,000 Corpses
and the excellent
The Devil's Rejects
) and with time running out before I was to take off, we decided to make our own Michael movie.
We had just over one day to formulate a story, recruit some buddies for a party/chase sequence and shoot (oh, and buy a camcorder). It became like our own little 24-Hour Film Festival, just without the editing process, which in this case took place at my leisure.
I wound up returning to Orlando in 2008 and over a period of about 6 months we filmed a sequel (poster pictured above). I am confident the sequel will blow the original out of its blood-soaked trousers while maintaining the casual, two-dudes-and-a-camera atmosphere. It will be gracing this blog as soon as the editing is complete.