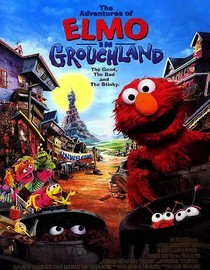 My daughter, only four months old, may be far too young to fully partake in something like the 77-minute long and somewhat interactive
Elmo in Grouchland
but one thing is certain, she is predisposed to loving Elmo. This I began to determine when imitating the popular, red monster calmed an unusually fussy changing session. The notion was confirmed when a boredom-induced bout of channel surfing brought me to an Elmo segment of Sesame Street to which the little one perked up and chirped with excitement. So, in an effort to entertain after most alternative avenues had been ventured, I popped on this colorful adventure.
Elmo's 1999 outing opens merrily with fun and familiar characters and settings (and an inexplicable Tiger Woods poster in the background). Whimsical songs and "Sesame Street" in-jokes are everywhere. It isn't long, however, before the fuzzy hero shows a flaw in character and needs to venture through the Oz-like Grouchland to redeem himself. Okay, kids might not pick up on this relative subtlety of the story's meaning. Elmo's tale of redemption as interpreted by the target audience is more a spritely journey to rescue a prized possession. It is important for them to realize - and hopefully they will, perhaps with some parental coaching - the message is one of charity. Not only does Elmo learn not to give in to greed, he realizes that outward appearance is far from the whole picture. To keep little viewers going between the carefully woven lessons are innocent pratfalls and plenty more musical numbers, including a stand-out from Vanessa Williams as the Queen of Trash, an unintentionally sexual character (she demands the blowing of 'raspberries' to, uh... please her... after which bright lights explode behind her throne).
My own youngster was captivated by the colors and sounds for approximately half an hour before casually demanding extra attention, and even then she remained intrigued. The film may play at an extreme pace, helping mold a lack of patience from an early age, but overall it is an easily recommendable - if not quite memorable - way for a child to spend an hour and fifteen minutes. If anything, the ever-impressive Mandy Patinkin's turn as the selfish villain Huxley is a delight.